Ping20Si

Ping20Si is a complete system designed to meet the conspicuity requirements for operating UAS in controlled airspace.
This system includes an integrated, high integrity WAAS GPS sensor derived from uAvionix's TSO'd FYX technology, and a precision, temperature controlled, barometric sensor with accuracy beyond 80,000ft.

Our advice is for Insured package shipment. this will provide:
Registered shipment and insured up to 5500,00 Euro.
Tracking number will be issued.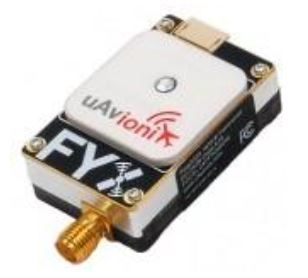 With shipment Standard package EU for 23,60 €
With shipment Registered package EU for 27,23 €
With shipment Insured package EU for 33,88 €
With shipment Registered package Netherlands for 11,62 €
With shipment Insured package The Netherlands for 19,90 €
With shipment Self pick-up for 0,00 €
Sales price without tax
2272,73 €
Description
Features
Mode S transponder.
ADS-B 1090ES DF17 transmitter.
Integrated WAAS GPS.
Integrated static pressure sensor.
Meets the performance requirements of TSO-C166b Class B1S and TSO-C122e Class 1 Level 1els @ 20W.
Meets the ADS-B Out equipment performance requirements of 14 CFR 91.227.
Meets the minimum performance requirements of the following RTCA specifications:

DO-181E Class 1 Level 1els @ 20W
DO-260B Class B1S @ 20W
DO-229D Class Beta 1 GNSS Position Source

GPS/SBAS augmentation system. RAIM layer for Fault exclusion.
Temperature controlled static pressure sensor accurate to 80,000ft.
Battery backed GPS for fast TTFF.
DO-160G environmental Cat B2.
GDL90 compatible CONTROL serial input. Compatible with popular autopilots.
GDL90 ownship and altitude packets.
SMA 1030/1090MHz Antenna Connector.
Integrated GPS antenna.
US Patents Pending.
Regulatory
Meets the requirements of:
FCC 47CFR part 87
TSO-C166b Class B1S @20W.
TSO-C122e Class 1 Level 1els @20W.
CAA-UK CAP 1391 ECD
Note: Please check your countries radio licence legislations. ADS-B out can require a permit to transmit on 1090Mhz (for The Netherlands this is € 120,00 per year).