Ping200Si

Ping200Si is the world's smallest, lightest, most affordable and FCC approved full range Mode C and Mode S ADS-B transponder. At just 80 grams, it implements 'Sense and Avoid' for Drone operations in the national airspace. ADS-B out on 1090MHz. No deviations from the Minimum Performance Standards of DO-181E Level 2els Class 1 and DO-260B Class B1S 250W nominal output power. Ping200Si is TSO 112e compliant.


Our advice is for Insured package shipment. this will provide:
Registered shipment and insured up to 5500,00 Euro.
Tracking number will be issued.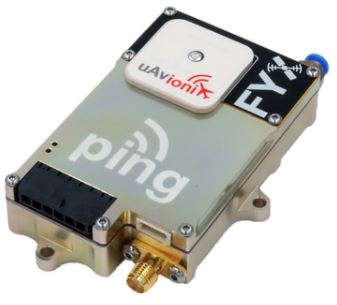 With shipment Standard package EU for 23,60 €
With shipment Registered package EU for 27,23 €
With shipment Insured package EU for 33,88 €
With shipment Registered package Netherlands for 11,62 €
With shipment Insured package The Netherlands for 19,90 €
With shipment Self pick-up for 0,00 €
Sales price without tax
3677,69 €
Description
All ping200S products share the same core FCC approved 250W transponder featuring:
Replies to Mode C and Mode S radar interrogations
Transmits ADS-B on 1090MHz Extended Squitter.
Meets MOPS DO-181E Level 2els, Class 1
Meets MOPS DO-260B Class B1S
GDL90 compatible CONTROL packet
SMA Antenna Connector
US Patents Pending