Ping 1090

Ping1090 is the world's smallest, lightest and most affordable full range, dual link ADS-B transceiver. At just 20 grams, it implements 'Sense and Avoid' for Drone operations in the national airspace. ADS-B-In on both 1090ES and 978UAT. ADS-B-Out on 1090MHz. No deviations from the Minimum Performance Standards of DO-260B Class A0 apart from minimum transmit power.

Ping1090 is the first and only approved ECD for use on sUAS in the UK.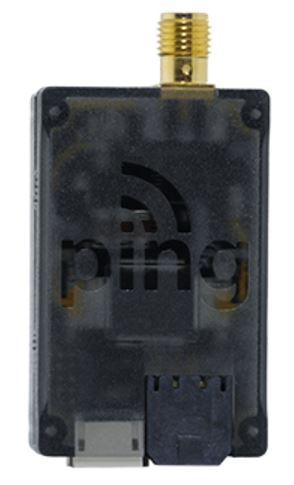 With shipment Standard package EU for 23,60 €
With shipment Registered package EU for 27,23 €
With shipment Insured package EU for 33,88 €
With shipment Registered package Netherlands for 11,62 €
With shipment Insured package The Netherlands for 19,90 €
With shipment Self pick-up for 0,00 €
Sales price without tax
1566,12 €
Description
Ping1090 and pingNAV can be paired for a plug and play ADS-B solution
Detects commercial aircraft threats on 1090MHz and 978MHz within a 100 statute mile radius in real time
Reports threats from commercial aircraft in a programmable spherical radius
Transmits ADS-B DF-18 on 1090MHz.
Meets MOPS DO-260B Class A0.
Navigation Source (GPS and Baro) PingNav option
SMA Antenna Connector
GDL90 combined UAT and 1090ES traffic reports
US Patents Pending
Direct Integration with Pixhawk Autopilot
Direct Integration with DJI via DJI Software Development Kit
Note: Please check your countries radio licence legislations. ADS-B out can require a permit to transmit on 1090Mhz (for The Netherlands this is € 120,00 per year).