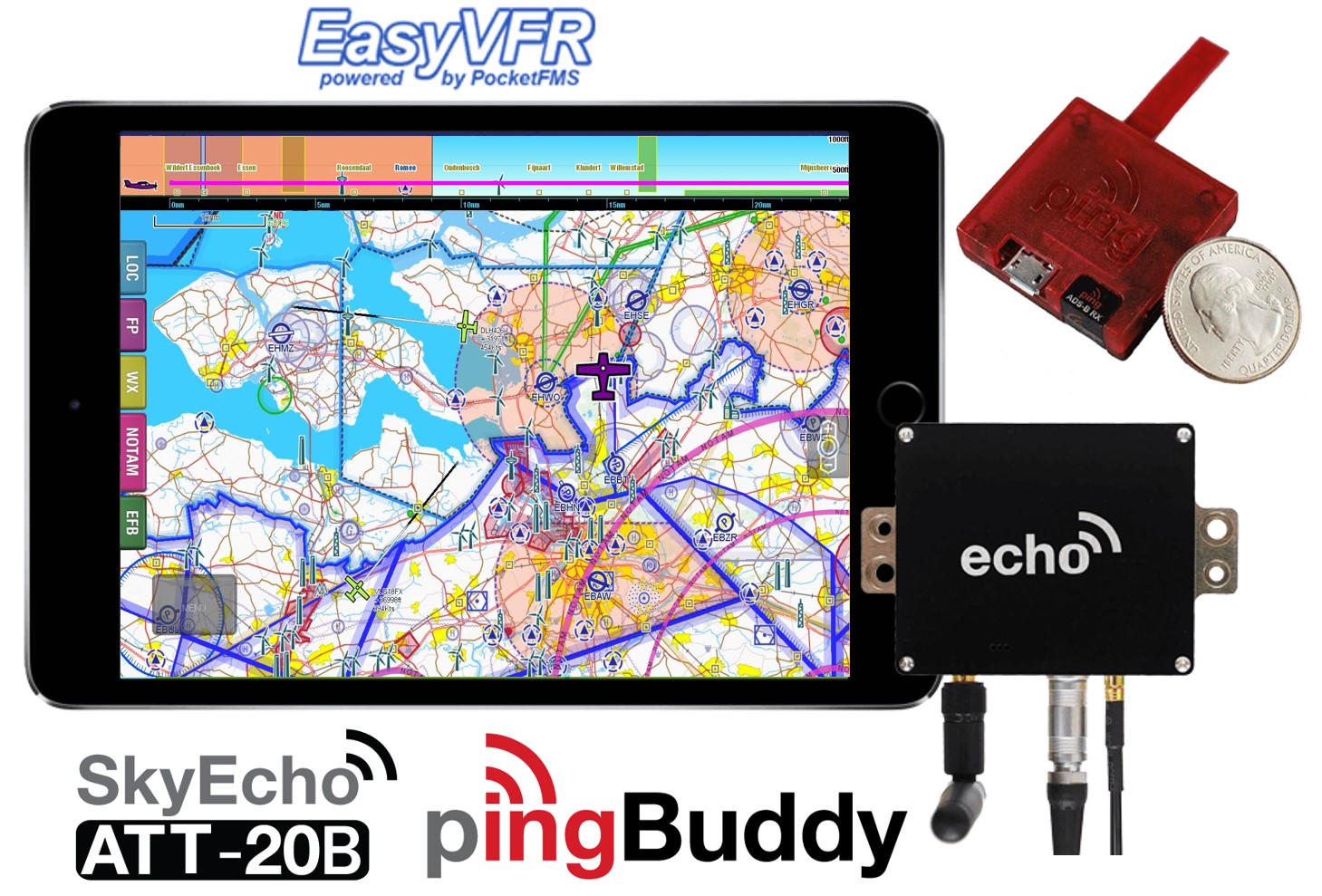 January 6th, 2017. PocketFMS and RPAS Services are proud to announce the release of uAvionix PingBuddy & SkyEcho ADS-B support for EasyVFR.
EasyVFR, a valued flight planning and navigation tool featuring georeferenced Approach Plates, flight planning and filing, regular aerodata updates, NOTAM and weather support, now also supports the use of ADS-B anti-collision devices from uAvionix.
Functioning as a ADS-B receiver the PingBuddy device will provide display information about other ADS-B traffic on your EasyVFR Moving Map screens along with its altitude, position and direction. When used in combination with SkyEcho ATT-20B with build in GPS and ADS-B In receiver, your ICAO-ID, altitude, position and all standard data will be transmitted to the other aircraft through ADS-B Out. With CAP 1391 Basic ECD, the first European approval has been received.
Connectivity to the uAvionix devices is done via WIFI using the GDL90 protocol. With this new add-on to EasyVFR, pilots are offered advanced situational awareness and an increase in air safety.
EasyVFR 3.94 featuring the new connection options will be made available in the various App Stores within the next few days

About PocketFMS.
PocketFMS Foundation, founded in 2003, is a not-for-profit organization dedicated to increasing the fun and safety of private pilots around the world. With the EasyVFR flight planning and navigation tool, PocketFMS makes flying adventures possible.
For more information, visit the website: www.pocketfms.com
Contact: R. Weijers at +31 653491313 or This email address is being protected from spambots. You need JavaScript enabled to view it.
About RPAS Services.
RPAS Services is a European RPAS/drone operator situated in The Netherlands with many years of General Aviation experience. RPAS Services is distributer and support partner for the uAvionix products for RPAS/drones and General Aviation in Europe.
For more information, visit the website: www.rpas-services.eu
Contact: R. Muller at +31 651751514 or This email address is being protected from spambots. You need JavaScript enabled to view it..
About uAvionix Corporation
uAvionix develops Ping, the world's smallest, lightest and most affordable aviation grade ADS-B transceivers, transponders, and GNSS navigation sources. Based in Palo Alto, uAvionix has gathered a cross-disciplinary team of experts in embedded RF engineering, sUAS operations and compliance, hardware, software, and cloud services. For more information, visit the website: www.uavionix.com.